It was May of 2018. After an agonizing four hour oral exam, and a no less demanding several-hour flight test, I emerged from the Oakland Airport FBO a newly minted Private Pilot. In these early days, every flight was an adventure, and my relative inexperience afforded frequent learning opportunities as I flew my first passengers to many a $100 hamburger at various small airports around Northern California.
Now, just over three years on in 2021, I am still very much a "student" pilot, in spirit if not in certification. But the small day trips and bay tours have become relatively routine, and while it's all well and good flying from runway to runway in the relative comfort of a PA28 or C172, sometimes you want to dip your toes into something a little more adventurous. That's how I discovered Foothill Aviation's seaplane add-on program.
Program Structure #
Thankfully, unlike the initial Private Pilot Certificate and accompanying Airplane Single Engine Land (ASEL) rating, the process for adding Single Engine Sea (ASES) is pretty straightforward. There are no specific hour or experience requirements as there were for your private certification. You need only demonstrate proficiency in the maneuvers and concepts involved in managing an aircraft on floats, rather than on wheels.
The output of your training will be two endorsements in your log book from your seaplane instructor:
14 CFR § 61.39(a)(6)(i) and (ii): Prerequisites for practical test
This endorsement attests to you having received and logged appropriate training time within the preceding two months in preparation for the ASES practical test, and that you are indeed prepared to take the test for your add-on rating.
14 CFR § 61.63 (c): Additional aircraft class rating
This endorsement essentially says the same as the above, but is specifically targeted toward the addition of a rating to your existing certificate.
With those two endorsements in hand, you can take the ASES add-on practical test, the successful completion of which will add the rating to the back of that fancy plastic card you carry around in your wallet.
Scheduling #
My initial email to Foothill resulted in being connected to CFI Terry Hayes. Terry coordinated with the DPE and helped me set up a weekend slot of four contiguous days in early June—three for training and one for the check ride. With the dates in hand, we booked an AirB&B, loaded the dogs into the car, and drove out to the foothills.
The Aircraft #
Before I get into the actual structure of the course, I think it's worth a brief digression to talk about the aircraft you'll be flying.
N818TA is a PA-18-150 on EDO 2000 floats. It features a Lycoming O-320 150 horsepower engine, tandem seating, and various accoutrements that make water operations a bit easier (like water rudders).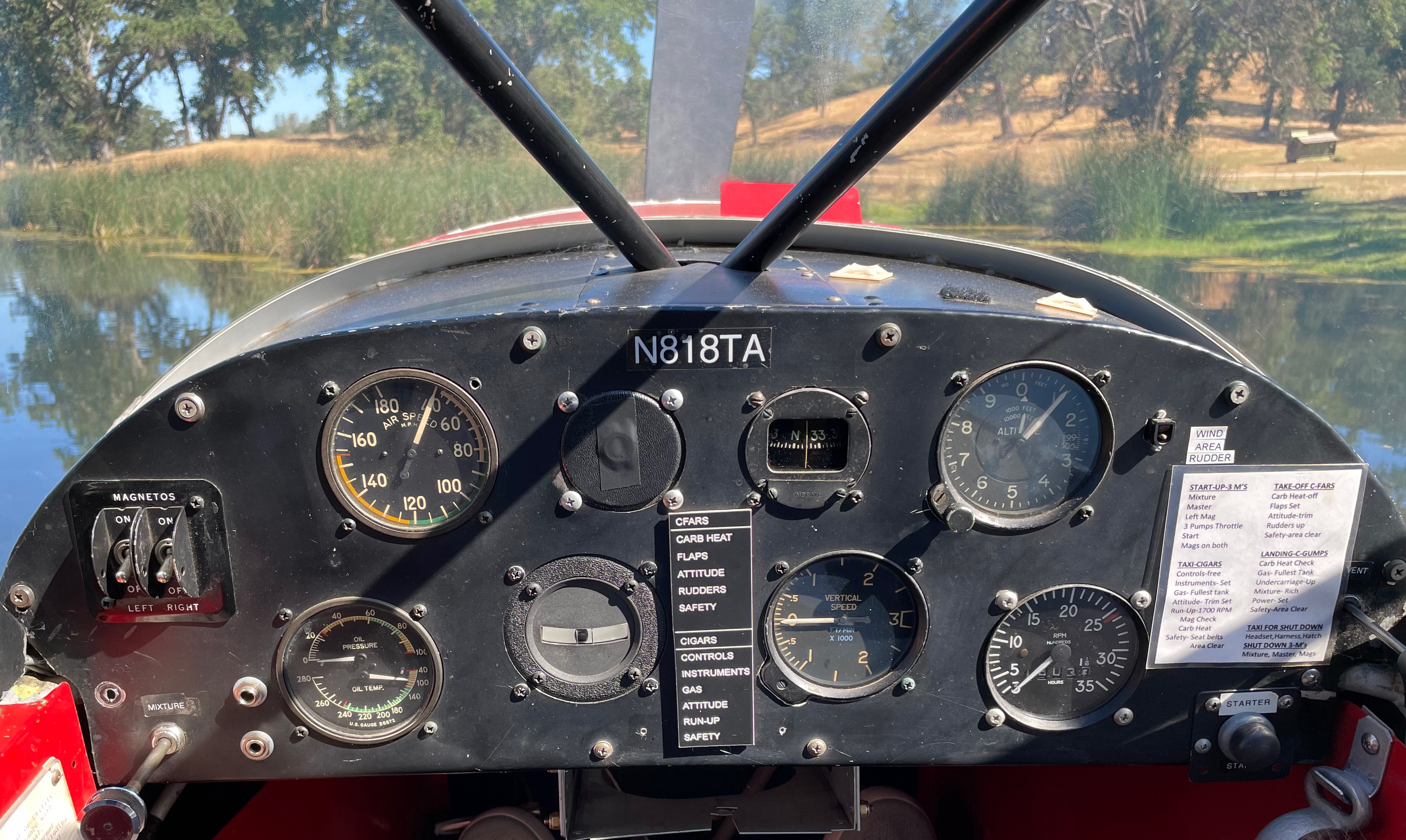 The aircraft itself is as straightforward as it gets in general aviation. In the cockpit, you've got (from left to right on the top row) two independent left and right magneto switches, the airspeed indicator, whiskey compass, and an altimeter. Below those instruments, you'll find the mixture control, oil pressure and temperature gauges, a slip/skid indicator (colloquially known as the "ball"), vertical speed indicator, engine tachometer, and the starter button.
The throttle, carb heat, trim, and fuel tank selector are on the interior fuselage to the pilot's left, and the control to raise and lower the water rudders is on the right. In true Piper fashion, 8TA sports manual "Johnson bar flaps and a single door.
Things you will not find in this aircraft include: brakes (for obvious reasons), radios, attitude indicators, directional gyros, navigation equipment, or much in the way of storage space. But I daresay most of those things would be useless for the mission at hand anyway. I didn't even use a kneeboard.
The Instructor #
Terry is an amazing instructor. She didn't overload me with data or leave me to figure too much out on my own. She's got a ton of flying experience, especially on floats, and it shows.
As someone who flies both land and seaplanes on the regular, she understands what sorts of experience you're likely to have and tailors her instruction to your particular experience level. I had zero stick and rudder experience prior to 8TA, and within a few minutes Terry made sure I was comfortable and proficient with the new control scheme.
Training #
Day 1 #
At the crack of dawn on Friday morning, I was up getting 8TA's weight and balance information into ForeFlight. As it would turn out, that and logbook functionality is about all I'd use ForeFlight for on the trip. There just isn't room in the PA-18's tiny cockpit for luxuries like iPads or kneeboards.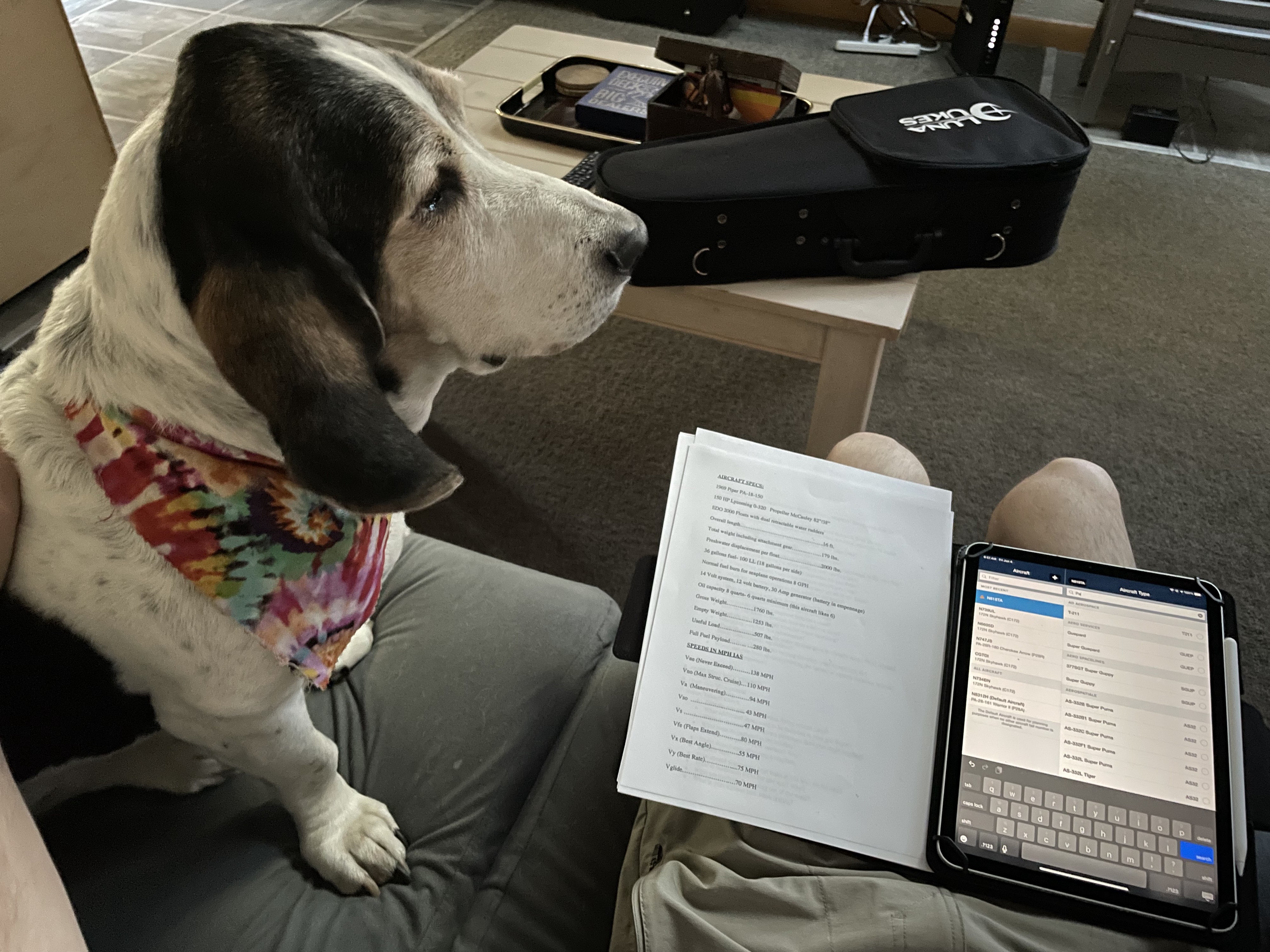 At 8am, Terry and I met up in "downtown" Angel's Camp, spoke briefly about the structure of the training, and then headed down the road to a nearby cattle ranch with a sizable pond where 8TA was docked. We did a thorough preflight, got in, and took off.
The first day was mostly seaplane basics like various methods of taxiing, sailing, and generally navigating the aircraft on the water, as well as normal and specialty takeoffs and landings. We did most of this practice at New Melones Lake, whose muddy shores were already presaging a serious drought season.
After a few hours of flight time, we returned to the ranch and then headed up to KCPU for some ground instruction and a recap of the day's activities.
Day 2 #
The second day was mostly about focusing in on some of the trickier aspects of special operations in a seaplane. These were things like rough water, glassy water, dealing with confined areas, and the like.
The real "trick" with seaplanes is that you can land pretty much anywhere on a lake, so long as you can parse the wind and clear the area. I spent a lot of time on day two just honing my sense of the wind and the waves and trying to improve my judgement on where and how to put the aircraft down on the water.
We also spent some time checking out the nearby New Hogan Lake, practicing various takeoffs, landings, step taxiing maneuvers, and beaching techniques over there. The seaplane textbooks call out several times how important it is to avoid "personal watercraft" (eg. jet skis) due to their erratic turning tendencies, and this was underscored for me at New Hogan.
Day 3 #
After being exposed to all the key material, it was time for a mock checkride. Terry ran me through some practice questions during our preflight and then we headed back to the lake to validate my skills on the material that would be assessed during the actual checkride the following day. Satisfied with my performance, she annotated my logbook with the requisite endorsements.
We also took some time out for a fun diversion to Don Pedro reservoir for an incredible canyon run over a bridge, through the canyon, and down under some power lines for an amazing sight seeing tour that only a seaplane pilot can experience.
Checkride #
On the morning of our fourth day up in the hills, I set out not to the pond, but to KCPU, where DPE Richard Conte was flying into meet us.
We began with a normal takeoff at the pond and then flew out over the hills to New Melones. Over at the lake, we began with a normal landing, then switched to a glassy water takeoff followed by a glassy water landing. Then it was time to practice a little step taxiing, with some gentle S-turns left and right, followed by a rough water takeoff and a trip over the hills back to the pond.
Back at the ranch, we overflew the pond to get a sense of the wind conditions, then entered a right pattern and brought it down one last time for a rough water landing, then taxied back and docked the airplane.
And that was that—after just three days of practice, I became the world's newest seaplane pilot!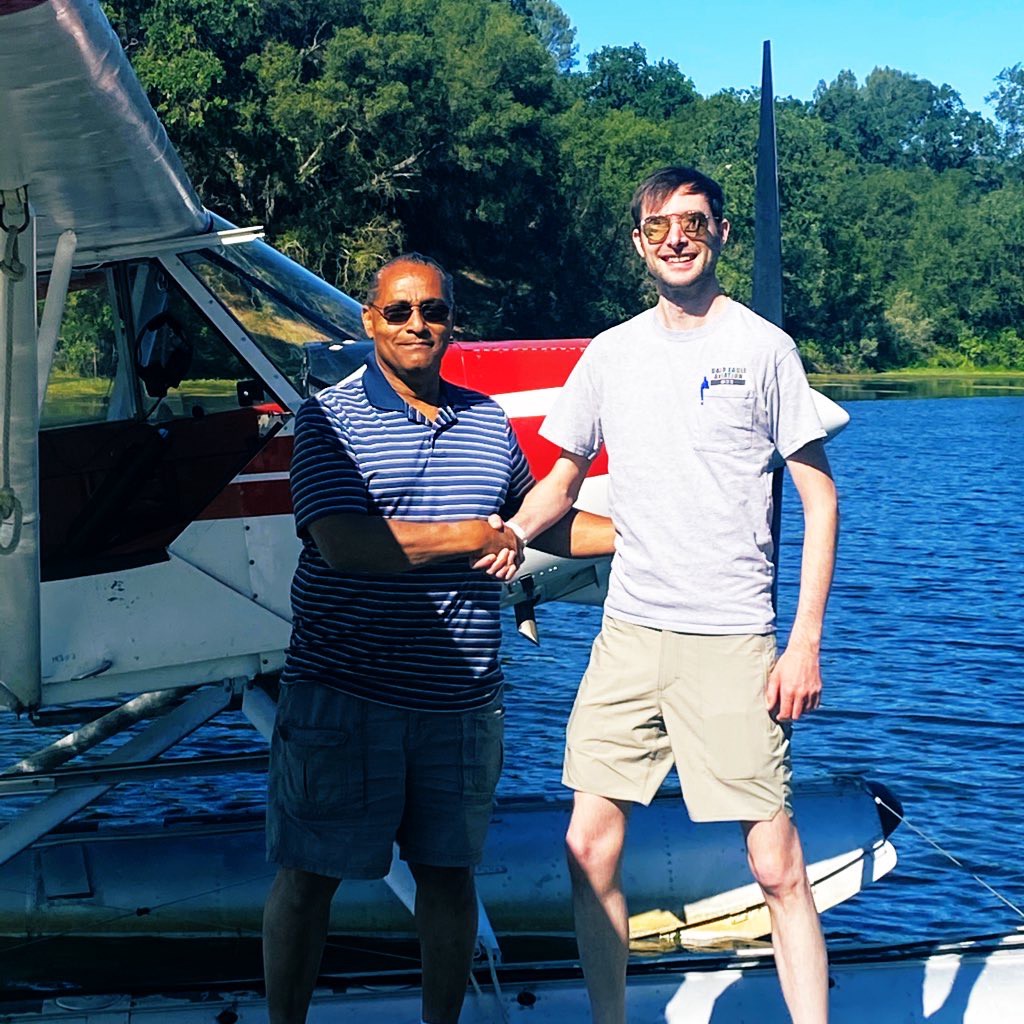 Many thanks to CFI Terry for her thoughtful and patient instruction, and to DPE Richard for a thorough but efficient checkride. If you're looking to add a little versatility and a lot of excitement to your pilot journey, I can highly recommend the ASES add-on.
As for me, I'm looking forward to more adventures on floats as PIC in the near future.